Raw Saps | Save the date
How long lasts the present, when does the future become the past, and what does the past say about what is to come.
The land art installation at Château Palmer, has long ago vanished, and the images that will recount and imagine the future have not yet come together. The past, large lava/glass flow has not surfaced yet. The giant drawing, composed of 180 smaller drawings, has completed the representation of the present.
I wanted to share each step of this creative process. The urgency of what I attempt to discover confronted with the  elusive temporality of this project imposes a path that isolates me.
However, the time is of the essence and soon we will meet for the Sèves Brutes (Raw Saps) opening. Starting May 17th 2018  in Bordeaux, France, the Present and the Future will be displayed at Arrêt sur l'Image Galerie (until July 13th) and the Past will be shown at madd-bordeaux (until September 17th).
I would be delighted to introduce you to our Sèves Brutes on May 17th , from 4pm to 6pm at Arrêt sur l'Image Galerie, and at 6pm at madd_Bordeaux. Alongside me to welcome you are, Marie Secret who organizes the exhibitions, rodach_webstie Lamire Fabre, Arrêt sur l'Image Galerie's founder, Constance Rubini, madd-bordeaux's director, and Annabelle Grellier, Château Palmer's Communication director.
Please find the invitation
here
.
Be present to what goes through us.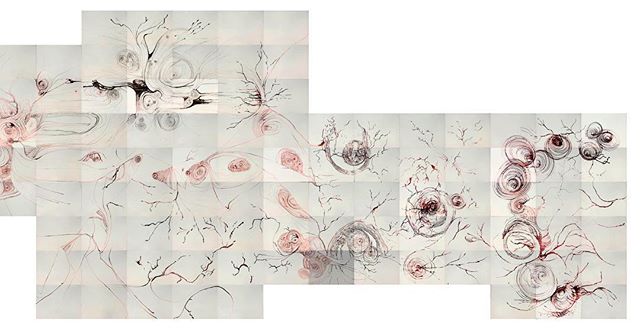 Raw saps | 2018 | Present | 99 of 180 drawings
Published the 11/04/2018
Linked categories