La Nuit Polaire – Trophées Victor – De la responsabilité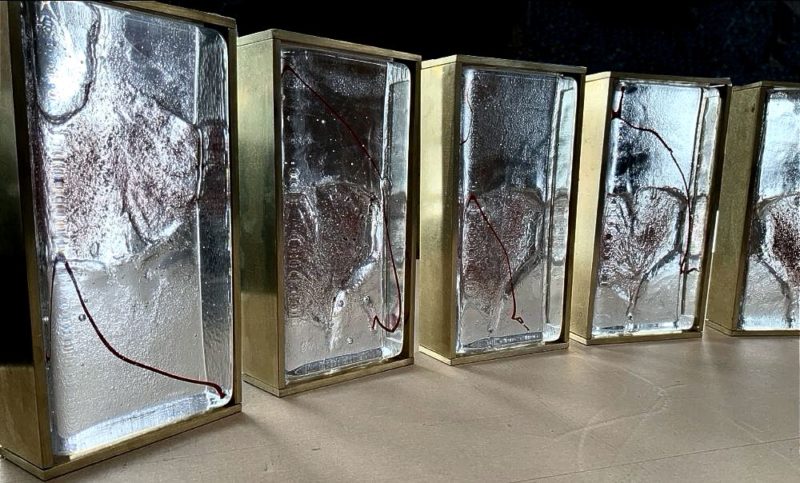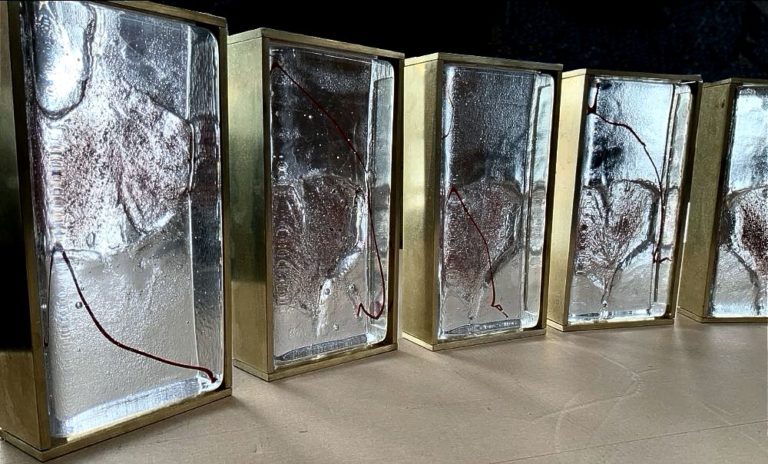 Fossils of Ginkgo leaves in glass and cementations with inclusion of a red glass thread. Framed in brass 20 x 10 x 4.5 cm without frame
It has been a year since I have'nt reach to you, I sometimes feel like being a mercury drops in the barometer of the world.
However, I walked on a silent path and on words too. Today, I am sharing with you  a project that will lead me to others, we will discuss about together an other time.
Last January I have been invited to create the Victor Trophies imagined by Ashok Adiceam for the Fonds Paul Emile Victor and the Polar season which began with the government conference on Antarctica. I have imagined Ginkgo fossils caught in glass as they would be in ice.
The North Pole-Arctica and the South Pole -Antarctica. The boundaries of our world between which we stand. Extremes, climates, energies, configuartions. The first one in the north, is overexploited , object of covetousness, land of frozen waters, landless land, immaterial and monopolized. The other in the south, virgin of everything, of plant, humankind, frozen but concrete, a sacred continent, conquest free, offered only to marine animals and nomadic humans working for common knowledge.
It is Antarctica specifically that caught my imagination. And among all the leads that I have explored, some of which will surely be the subject of further development, it is that of fragility and responsibility on which I have focused. The secrets revealed by coring of the ice cap bring knowledge and destruction. The ice by melting, releases what had been locked in it for millennia and loses it.
The fossils, each is unique, bear the imprint of Ginkgo leaves that were present in Antarctica before continental drift. The red threads running through them are the potential for life. The living glass comes by combustion to immortalize them, as ice would do by freezing, before man dislodges them
The fossil trophies are surrounded by a brass frame bearing the name of the prize. The glass block and the frame can be separated. The fossil would be returned to its art piece nature. The frame, as memory of the reward, left empty, is a metaphor for the disappearance, will remind responsibility that any exploit carries.
The Victor will be presented next Saturday to the Natural History Museum. They will reward journalists, documentarists, artists, explorers, writers and young talents committed to advancing the discovery, knowledge and understanding of the Poles around seven categories during the Polar night which closes a Summer under the sign of the Poles.
Nuit Polaire
Saturday October  9th 2021 – from 18:00, Trophies ceremony 20:30
Museum National d'Histoire Naturelle | 57 rue Cuvier, 75005 Paris, France
Free entry upon registration (
here
)
Follow the event live (
here
)
Published the 19/11/2021
Linked categories