Fragmented, the screams carry their voice to New York.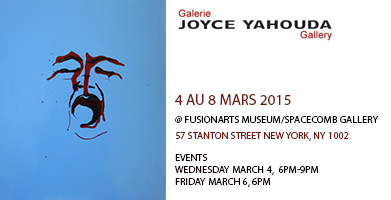 From 4 to 8 March on the occasion of the Armory Show, Joyce Yahouda gallery at the forefront of the Montreal scene,will exhibit in a pop up show in the Lower East Side is a selection of her favorite artists, and « les cris ».
Long before the moon, in New York, spoke to me of our dualities, ambiguities, complexities, « Les cris » called us to recognize ourselves. The moon, metaphor of the feminine within ourselves, « les cris » metaphor of its expression out of us.
I am happy to come to you through my work.
March4, 2015- March 8, 2015
Joyce Yahouda Gallery @ FusionArts Museum/Spacecomb Gallery
57 Stanton Street New York, NY 1002, map
Events
Wednesday March 4, 2015, 6pm-9pm
Friday March 6, 6pm
Published the 28/02/2015
Linked categories